Brutal Assault Festival 2013 - Preview
Scritto da Administrator
Mercoledì 05 Giugno 2013 19:21
BRUTAL ASSAULT FESTIVAL 2013
August 07-10, 2013  -  Old Army Fortress Josefov, Czech Republic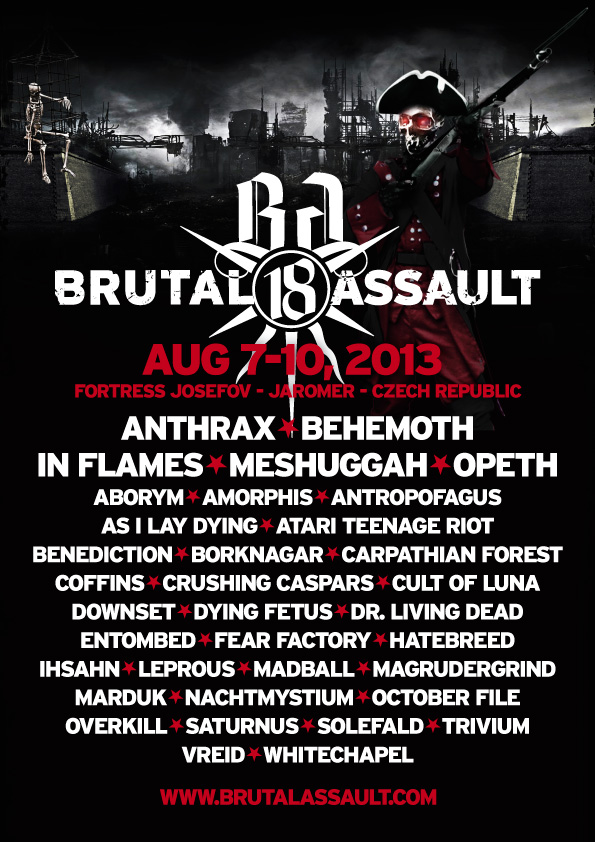 18th edition of the Brutal Assault Festival will be held from the 7th until the 10th of August 2013 in the Old Army Fortress Josefov in the Czech Republic. The combination of a worldwide selection of extreme music genres and the historical area of the Old Army Fortress is unique, is an integral part of the festival's image and provides to festival-goers unusual experience. Marathon of extreme music will offer the best from various metal genres, in total more than 75 bands from around the world. This all during 4 days and on 3 stages.
Actual line-up, headlined by bands such as ANTHRAX, IN FLAMES, OPETH,  FEAR FACTORY, HATEBREED, MESHUGGAH, IHSAHN, BEHEMOTH etc., see bellow:
ABORYM – ALCEST – AMORPHIS – ANTHRAX – ANTROPOFAGUS – AS I LAY DYING – ATARI TEENAGE RIOT – BEHEMOTH – BENEDICTION – BORKNAGAR – CARCASS – CARPATHIAN FOREST – COFFINS – CRUSHING CASPARS – CULT OF LUNA – D.R.I. – DOWNSET – DR. LIVING DEAD – DYING FETUS – ENSIFERUM – ENTOMBED – FEAR FACTORY – HATEBREED – IHSAHN – IN FLAMES – LEPROUS – MADBALL – MAGRUDERGRIND – MARDUK – MESHUGGAH – NACHTMYSTIUM – OBSCURA – OCTOBER FILE – OPETH – OVERKILL – ROTTEN SOUND – SATURNUS – SOLEFALD – SUFFOCATION – SYLOSIS – TRIVIUM – VREID - WHITECHAPEL
The festival will take place inside the Old Army Fortress in Josefov (approx. 130 km from Prague). Unique atmosphere and history of the Fortress is an integral part of festival's image and provides to our festival-goers unusual experience.
The both stages are on the main square and the festival "accessories" are placed in the surrounding space. The festival-goers will discover tens of refreshment kiosks with various kinds of food for carnivores, vegetarians and vegans, 4 big "beer tents" offering 5 brands of draught beer and also several kiosks with wide offer of various kinds of alcoholic and non-alcoholic drinks.
Visit our "chill out" zone on the place called "Greenfield"! This place is inside the Fortress, just a small walk from the main square with both stages. Greenfield is a place for your pleasure and relaxation when you want to escape from the sound terror. It is a place for recharging your batteries. Among others you can find there monster "Metal Market" with more than 60 shops and last but not least the "Horror Cinema House" with a day projection of "B" level horror cinema movies.
Visit also our "Natural stand", a place for those who want to see the festival rush from above directly opposite both stages. We call it "natural stand" since it reminds a hillside where you can stay standing or sitting. This year again with separate sound coverage!
The camping site is approx. 300 m from the festival ground on a grass field. The camping site also includes "VIP Camp" which offers camping in the fenced area, toilets, washbasin and depository for use of the VIP camp inhabitants exclusively, a free 3-day pass for the natural stand and shower situated in the main camping site. VIP camp is guarded 24 hours a day from Wednesday August 07th till Sunday August 11th.
There are no parking capacities at the camping site. 24 hours "Guarded parking" is situated approx. 500m from the camping site by the river. Parking is also possible in the near roads and streets of Josefov. Please respect the local traffic signs.
As the festival is every year enjoying more and more attention, it is highly recommended to buy your tickets in advance. The capacity of the Fortress is approx. 15.000 persons.
Visit the official websites www.brutalassault.com for more information about tickets, tickets booking, bands, camping (incl. VIP Camp), accommodation and other important topics.
Next information channels:
http://www.myspace.com/brutalassaultcz
http://www.facebook.com/brutalassault.cz
http://www.youtube.com/brutalassaultfest