Recensione Nightbreeder and the Wintermoon Orchestra - Chapter 1 – A Black Comet Shineth ...
Scritto da BloodyMarha
Sabato 26 Gennaio 2013 19:06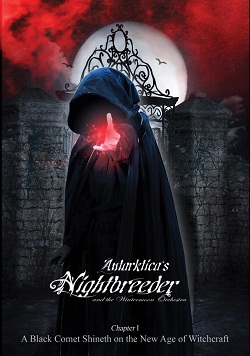 Antarktica 's Nightbreeder and the Wintermoon Orchestra - Chapter 1 –  A Black Comet Shineth On The New Age Of Witchcraft (2012, Crash & Burn Records/Arcane Witchcraft Coven)
Prima di cominciare a parlare di questo disco, è strettamente necessario per me, fare un disclaimer. Chiunque non apprezzi la musica classica e le sue declinazioni in ambito ambient, si astenga cortesemente dall'ascolto di questo disco. La musica non dovrebbe essere ascoltata con il para-orecchie e i giudizi dovrebbero poter essere sempre espressi nella totale libertà di parola, però a volte, si rende necessario, preservare le cose belle, che possono essere fraintese dai più. Questa è più o meno la storia di questa recensione.
Il progetto Nightbreeder and the Wintermoon Orchestra, nasce dalla mente di Antarktica, tastierista della band reggio-emiliana Dark End (n.d.r. che ho avuto il piacere di ascoltare fuori da un locale bolognese, durante un lauto pasto, in attesa di Cradle of Filth and friends), il quale probabilmente ispirato da Andrew Lloyd Webber ("Il Fantasma dell'Opera") scrive e compone opere dal 2000.
"Chapter 1 –  A Black Comet Shineth On The New Age Of Witchcraft", come facilmente intuibile dal titolo, è un concept che si lascia ispirare dalla vicenda della caccia alle streghe, tematica che permette al tastierista di esprimersi attraverso tratti gotici, atmosfere da film burtoniano. Ma il vero protagonista è il pianoforte, ça va sans dire, suonato con magistrale precisione, al quale viene affidato il compito di delineare le sfumature dell'oscura vicenda che di tanto in tanto i narratori, si apprestano a raccontarci.
La cornice è affidata alle orchestrazioni barocche che accompagnano le venti tracce del disco, e a sorpresa non risultano pesanti, bensì, scatenano un panorama diversificato di emozioni nell'ascoltatore (potenza della classica!).
È certamente degna di nota, la "cover" del "Lago dei Cigni" di Tchaikovsky, riadattato al mood oscuro della macchina Nightbreeder.
L'intento e il prodotto finale di Antarktica sono altissimi ed eccellenti; purtroppo passeranno inosservanti a causa di una scarsissima cultura e razzismo musicale. Mi faccio un cruccio di non averlo scovato prima e consiglio a chi come me si era perso questo progetto di recuperarlo e soprattutto di diffonderlo, per dargli finalmente la visibilità che merita.
Voto: 8,5
Website: http://www.facebook.com/pages/Nightbreeder-The-Wintermoon-Orchestra/337030059720867?sk=info
Line-up:
Antarktica – tutti gli strumenti
Tracklist:
1. Legend – The Curse of the Black Swan
2. Luther's Theme – Arrival of the Ancient One
3. Mistery
4. Gordon Pym Island
5. Elizabeth
6. Screams From Beyond
7. The Ghost in the Cellar
8. The Asylum
9. Angels of Dark Redemption
10. London Child's Prophecy
11. The Witch-Hunter
12. Evil Wind
13. Elizabeth's Bedroom
14. Grotesque
15. Luther & The Guardian of the Cemetery
16. Murder in the Funeral House
17. A New Age of Witchcraft (Swan Lake Nightreeder cover)
18. Exorcism – The Crypt of Elizabeth
19. Legacy of Darkness – The Rise of the Black Swan
Bonus Track
20. Swan Lake – Ballet, Op. 20, Overture (P.I. Tchaikovsky cover)